As a trusted provider of quality software solutions that help our clients create compelling digital experiences and increased scalability for their businesses and customers, we know what's necessary for success.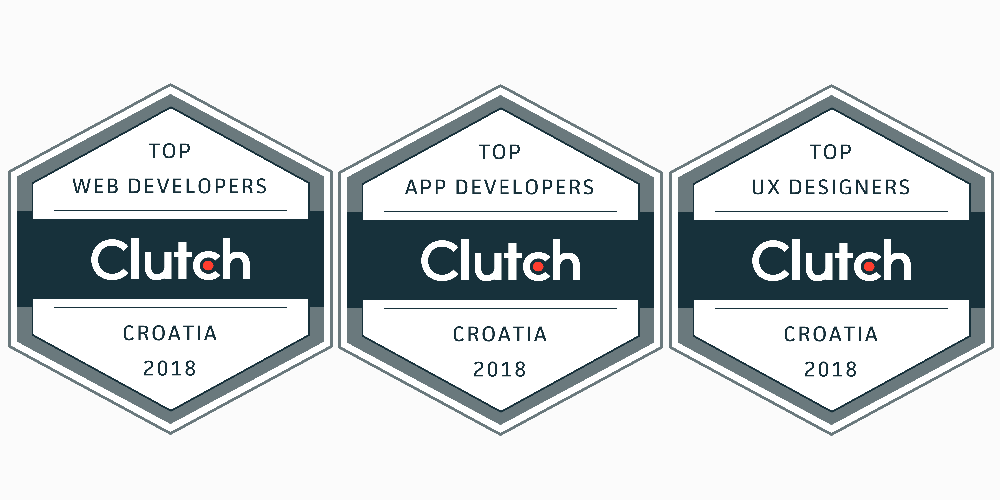 We focus on customer-centric software and solutions, and from our development services to our UI/UX design, we've honed our reputation for quality service and deliverable, a feat that has not gone unnoticed.
In their annual press release of the top B2B service providers in Croatia, business insight and research firm Clutch recently named CoreLine as a leader for mobile, web, and UX designers in Croatia! This accolade results from the research and scoring methodology Clutch uses for small and medium-sized businesses; by analyzing information such as industry recognition, market presence, and customer satisfaction, Clutch produces listings of the top companies within specific industries and locales.
Our team is honored to be considered a business to business leader in Croatia, with an ability to deliver, consistency, and expertise touted – both by Clutch and by our clients, who left reviews of our services on our Clutch profile.
As one client shared:
"The app is still in development, but CoreLine has proven themselves as a dedicated resource thus far. Their experience with integrations, organization, and ability to think critically have made for an overall productive and positive engagement … They're very experienced, and their development speed is outstanding. They are experts in their field … They're well organized, and they have the ability to think critically due to their experience with integration. They understand what they're doing, and they're fast workers."
"I have only good things to say about our collaboration. They are professional, they do their job, and I would recommend them to anyone," emphasized a second client. "The site was delivered with the specifications as directed and is functional and in use. Effective and professional, the team communicated well throughout the project and completed the work within deadlines. CoreLine added another successful project to their list."
Additionally, we were highlighted by The Manifest, as one of the top app development companies in Croatia The Manifest is Clutch's sister website that provides insights on business news and industry lists; we are honored to receive recognitions on both platforms.
We're extremely proud of the results delivered, in both development and the long-standing client relationships we've cultivated, and CoreLine thanks Clutch for the acclaim in being listed among the preeminent leaders of our industry. If you're interested in more details concerning our case studies or hearing more about our approach, connect with us, as we look forward to pursuing more partnerships and projects in the near future!