CoreLine is featured once again as one of the Clutch leaders in Croatia and the region.
We are a Custom software development Company from Croatia, with Headquarter in Zagreb. It is a working place of more than 20 enthusiasts who are helping our Portfolio to grow and in which you can find software solutions deployed in the USA, United Kingdom, Norway, Germany. Just a small number of industries we cover include Insurtech, marketplaces ranging from simple food shops to international fashion, and our own startup CoreEvent - A leading software solution for event organizers.
Here at CoreLine, we have plenty of past clients who are happy to attest to our development expertise!
Their rave reviews can be found on Clutch, a B2B ratings and reviews platform. Their mission is guiding businesses in their purchasing decisions by publishing honest reviews of real business engagements.
One of our main strengths is the client's project approach which includes a detailed scheduling and planning process to assure the project is completed by the set deadline. We do this by organizing design sprints or multiple meetings to familiarize ourselves with the client's pain points. Getting to know clients on a high level is always a hard task but we try to give our best when it comes to getting their attention. We want to create a strong business/client relationship and an environment of trust and comfort. Therefore we use more ways than ever to connect with clients. Emails, Slack, meetings, mobile apps, and much more.
We're proud to announce that Clutch recognized us for being a top Croatian developer!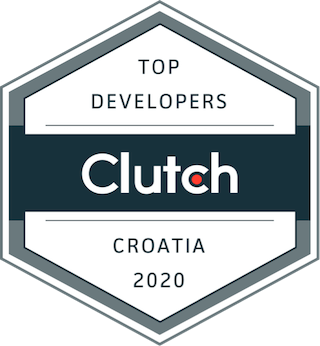 We joined Clutch in 2017., and since then it has been our best data-driven field guide for B2B buying and hiring decisions. The presents on Clutch helped our Company to be known for its services worldwide. Client reviews on Clutch improved and gained visibility of our team online. It helps us improve our services and gain exposure to new clients. With having the ability to list our Portfolio, we can proudly present our best work which includes websites, web and mobile apps, cool and interactive designs, platforms, and a lot of other IT solutions.
Our Founder and CEO Filip is especially happy because of this success on the Clutch: "Another year and another award. We have done it again, and I am proud of the whole team. It is a good acknowledgment that we are on the right track."
Everyone with a "digital idea" and needs regarding development please feel free to reach us out on the following email contact: contact@coreline.agency